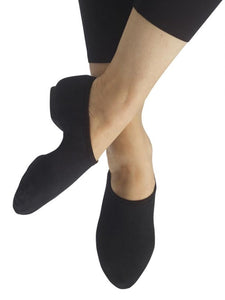 CAPEZIO ADULT EOS STRETCH CANVAS
Regular price $44.50 Sale
Move with satisfaction in our EOS Jazz Shoe. This slip-on jazz shoe made of four-way stretch canvas is a top-notch choice for dancers with narrow feet. Highlights include the "second skin" fit, shock absorbing EVA heel and sturdy fore foot patch for traction. Create the illusion of dancing in your socks with EOS.
Product Features:
Slip-on, split-sole
Four way stretch canvas
Canvas lining
Suede sole patches and EVA heel
Plush elastic topline
Foam padded insole
Low sides
Fore foot patch for traction
Women: Begin with street shoe - 1/2 size up. Men: Begin 2 - 2 1/2 sizes up from street shoe size.